A couple of weeks ago, I wrote about upgrading the SSD of my EEE PC 901 and the mixed results I got. I decided to return it and wait until a faster SSD by RunCore becomes available. Today, I received my brand new RunCore Pro IV SATA 70mm Mini PCIe SSD 32 GB (what a name!).
As I already wrote in my earlier post, swapping the SSD is really easy.
Backup your data. If you want to reuse your current installation, use some imaging software. I booted from an Ubuntu Live CD and used dd.
Turn off your EEE, remove AC and battery.
Loosen the two screws of the lid on the bottom and remove the lid. You might have to apply a little bit of force with a flat screw driver.
Loosen the two screws that hold the SSD in place. Make sure the don't fall into the case. If the do, you absolutely must find them before you plug in AC or the battery, otherwise you risk a short-circuit.
Replace the old SSD with the new one.
Fix the SSD, put on the lid, restore your image. Done!
If anyone asks nicely, I can take some pictures of the process, but it is really simple. The only special tool you need is a very small Philips screwdriver. There was one in the box with the SSD, but it wasn't small enough.
After swapping the drive and restoring the image, I booted the device for the first time. The EEE detected the drive without problem and I noticed immediately that the system was snappier. Then I ran the benchmark: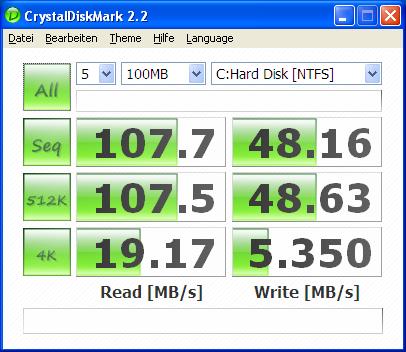 The sequential and 512k read performance is on par with the Super Talent SSD, but the write performance is miles ahead. To be honest I expected even faster write speeds, but I'm far from disappointed. The benchmark result is 7.5 times faster than the Super Talent SSD and a ridiculous 93x better than the stock SSD. Way to go, RunCore!
Older benchmark results:
Disclaimer: I'm not affliated with any of the companies mentioned, I'm just excited that my little EEE PC might be usable again. If you think about dumping it for a new device, consider upgrading the SSD.