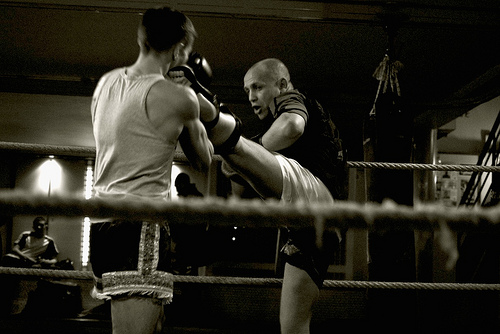 As I was reading the coverage of the iPhone OS 4 event on engadget, I couldn't help thinking: some people will be really, really pissed. Or scared. Or both.
No, I'm not talking about iPhone 3G users who won't get to enjoy multitasking, I'm talking about numerous companies whose right to exist is seriously questioned by Apples innovations.
But let's start at the beginning and look at the seven features Apple presented and the effect they will have.
Folders. Nice to have, but not really a game changer.
Enhanced mail, together with the new enterprise features, make the device more attractive for business people. Blackberry and Windows Mobile will have to watch out.
Reading long texts on the iPhone doesn't work for me. But for a lot of people, it does work. There are numerous ebook apps in the app store which serve that market and with iBooks, they suddenly have a strong competitor. With iBooks built into the OS, Apple might even play the duplicating functionality card and ban these apps from the store.
Game Center provides convenient solutions for game developers, like achievements, leaderboards, match making. Now look at the feature list of multiplayer gaming platform Z2Live. It's almost identical. Ouch, that must hurt.
Long awaited, multitasking arrives on the iPhone plattform – but only on the latest devices: iPhone 3GS, iPod Touch 3G and iPad.
Many applications, which were kind of pointless under the One App At A Time policy, finally make sense with multitasking. Pandora and Skype are great examples and I think creative developers will come up with countless other ways to blow your mind.
Of course, other platforms had multi tasking for a long time, but it had its downsides as well. Sluggish performance, low battery runtime. If Apple really solved the energy and performance solution with their approach, they have not only caught up to the other guys, they have overtaken them.
And now the real sucker punch: iAd. Mobile advertising is a big market and Apple just has bitten a huge chunk off the pie. Now it seems to pay off that Apple rules their platform with an iron fist. Just recently, use of location data for advertising  was just restricted and guess what they presented: ads with location data! If I had just forked over a nine figure sum for a mobile ad provider, like Google for AdMob, I would be massively unhappy.
With iPhone OS 4, Apple once more changed the playing field. We will see how the other players react.